Hello and Good Afternoon Everyone!
I hope that everyone had a fantastic Weekend and enjoyed
Celebrating Easter with their loved ones... I certainly did and the weather could not have been any more beautiful.
Any time you can have loved ones nearby and beautiful weather...it is a great day!

We will be going to Quilt Market in May and look forward to taking it all in and coming back with some fresh new ideas and projects to be shared with all of you.

Back by popular demand will be our


Sew What's... Sew Fun... Sew Sale....

see details below.
Thank you so very much to all that participated and played along with us, We had a great time and look forward to the next one.

Additionally, We will be setting up as a vendor at the Quilt show for the Missouri River Quilt Guild
"Amazing Quilts How Great the Art" Quilt Show
in Jefferson City Mo
on
Saturday June 1st from 9:00am - 5pm
and
Sunday June 2nd from 10am - 3pm
There will be over 300 quilts on display and vendors galore....
so get your girlfriends together and carpool for a great weekend.

Have a fantastic May and we hope to see you soon!


I thought you might enjoy the links below.



How to add a hanging sleeve.


http://www.allpeoplequilt.com/how-to-quilt/finishing/how-to-add-hanging-sleeve-you-go


Cute Pillow for those Grads in your life - with a free project download.
We are looking for sample makers for displays in our store. Please contact myself (Shawn) if you are interested or stop by the shop so that we may discuss the possibilities.
_________________________________



WE ARE NOW HIRING-
Are you or someone you know looking for a
fun, exciting and fast paced job where you can spend
your days petting fabric and helping fellow sewist
or teaching a class?????
Well then.... We want you or them!
Please share with your family and friends....
Apply in Person at
Sew What Shoppe
420 N 24th
Quincy IL

_________________________________




Click the link at the bottom this Newsletter for the Printable Version of our Calendar.






NEW ARRIVALS....
Our new arrivals are automatically emailed out monthly in a separate email.
Please check your email on a regular basis for
our newest selection of new arrivals.


______________________________


"Sew What" is Happening in the
Shoppe in May .......

SEWCIALIZING - SHOW AND TELL!!!! don't know about you, but I LOVE Show and Tell. It is my favorite part of quilt meetings. We will host it one time each month and we will have Donuts or
Bagels, Orange Juice and Coffee available. Please bring something for show and tell and, if you do, you will receive 20% off one regular priced item purchased that day. 20% off sale can not be combined with any other sales. Please feel free to bring a friend along, even if they do not sew! We want this to be a fun and joyful time so please bring any jokes or stories along also. You are welcome to come without a show and tell item, but won't be eligible for the 20% discount.
Saturday May 4, 2019
________________________________________


Our Monthly Kimberbell Club
Dealer Exclusive
(ALL brands of embroidery machines)
Shawn Hodges
Wednesday May 8th


___________________________

Kimberbell




Make Yourself at Home




Collection is in stock!!!


Fabric Kits


(
which includes the Quilt embellishment Kit)
Embroidery Cd's and Sewing Patterns available

Machine Embroidery
Shawn Hodges
May 9th
Kits available



____________________________

Singer Featherweight Group
at
Sew What Shoppe



NEW TIME


May 14th, 2019 10:00am - 4:00pm
Admission is FREE and for anyone who owns or is interested in owning a
Singer Featherweight.
Come and network with those who love their machines and work on projects.

____________________________

CORRECTED DATE


Sew What... Sew Fun... Sew Sale


Back by popular demand!

You will not want to miss this...
Our Sponsor
for this event
is


KIMBERBELL


MONDAY
MAY 6th
6:30 pm - 9:00 pm
Put your comfy clothes on and
Join us on Facebook LIVE
from your home or phone
for a fun sales event!

Much fun to be had by all....
and
PRIZES from our sponsor


KIMBERBELL



**** Remember- The more people we have on Facebook LIVE with us ..... the more prizes are given out

___________________________
Kimberbell Bench Buddies
Shawn
May 22nd


_________________________


Freedom & Liberty Table Runner
Machine Embroidery
Patti
May 23rd


____________________________

Raw Edge
Machine Applique
Janice McNeff
May 28th





____________________________



Project Bags


Sewing
Patti
May 29th

____________________________

Late Night Sewing
Friday May 31st
Reminder, We lock the shop up at 5:00pm and go out to eat as a group (a different restaurant each month) and we will return to the shop at 6:30pm to start late night sewing. This is a tradition from when Sue Fox owned the store and I really look forward to this time outside of the store with you ladies and hope to see you there. You can call ahead and so that you can join us there for dinner or you can join us at
6:30pm.
__________________________
Upcoming Classes

Kimberbell
Bench
Buddies
JUNE


JULY

__________________________




We are participating in the 2019 Row by Row
Stay tuned for our Block!

__________________________


Need those blocks or strips cut precise or super FAST?
Or are you tired of hand cranking your Accuquilt cutter?
No Problem we have got you covered!!!!!
Rent our GO BIG ELECTRONIC cutter for the day.
Just place your fabric on the mat and let the machine do ALL the work for you!
________________________
Have you visited our Website or liked us on Facebook yet? They are the BEST way to stay up-to-date on our specials and new arrivals. Our Website has a few new sections added to our Home page and it is extremely easy to navigate. There are tabs for Featured Products, On Sale, Top Sellers and New Products. If you live in the Tri-State area, you can shop online and save on shipping by selecting pick-up in store and you can sign up for classes by selecting the Calendar tab.
2017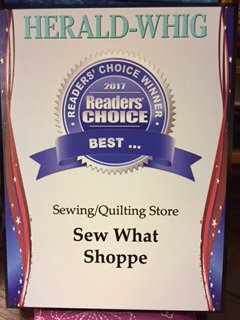 2018
_______________
Reminder, For your convenience we are now open until 8:00 pm on Thursdays.

Our Row by Row Fabric Plate!
Sew What Shoppe is an Authorized Janome and a Authorized Husqvarna Viking Dealership. If you are interested in a sewing or embroidery machine, we will be more than happy to assist you in making a small project at no cost to you. Stop by our Shoppe when you have free time or call us at (217)222-7458 and we will schedule an appointment for you to come in and test drive our machines and play! It can be extremely busy in here at times so with that said, Appointments have not nor will they ever be necessary, they only allow us to focus on you and your experience.
We look forward to serving all of our current and new customers with a unique experience by offering both Janome and Husqvarna Viking, Fabric, Classes, Machine Service and Longarm Quilting Services.
Have a Blessed Day from all of us here at Sew What Shoppe and see you soon!
Shawn, Brian, Shavon, Amy, Ann, Patti, Pam and Kermit
CLICK THE LINK BELOW TO SEE THE
May 2019 CALENDAR
https://media.rainpos.com/6237/may_newsletter_fixed.pdf