Hello Everyone! I hope all is well you and your families and that you are enjoying the warmer weather....
I certainly am!
I had to laugh at myself the other day when the temperature was in the fifties and I had to take off my winter coat because I got hot all of a sudden. It felt like a heat wave (I'm quite certain it was not a Hot Flash; so far, I have not had to deal with those lovelies just yet) and I realized how comfy our winter clothing can be. For example, I love wearing my jacket (not coat) daily, all day long..... and I did not wear it this past Friday because I chose a cardigan sweater instead. I honestly missed being all zipped up and snug as a bug inside of it and as crazy as it might sound, I almost felt naked without it.
And with that.....The next subject please!

We have a new team member to welcome, YEA for us!
Please stop by the Shoppe to meet our newest team member Pam. She joined us this week and we are extremely excited to have her on board with us and we are looking forward to bright and merry future with her.

With that exciting announcement, we must also announce that Gloria is moving on to pursue her passion of sewing and setting up as a vendor at events and craft shows all over the state of Illinois.

She will be missed but she will be in occasionally to sew and visit with everyone and

we wish her well!
______________________________________________


We have been extremely busy and working hard on a few new happenings for the Shoppe. We will host our FIRST


Party with the Night Crew Sale


on April 16th at 6:30 PM.


What is that you might ask........

It is a SALE event where we can all have some fun and It will be LIVE on Facebook.


What it is NOT

..... It is NOT the same thing as our Facebook Fridays.
You must be a Facebook user and Join us LIVE on Facebook on the date and time specified to participate in this Party / Sale event. Offers will not be valid in store and when the LIVE video ends, the sale prices will go away- no exceptions! In the event that they do become available in the Shoppe, they will be regular price.
You will not want to miss this Party.

Here is a quick Guide.
(these details and more will be covered while LIVE)


1.

Must be a Facebook user


2.

You MUST be registered to receive our Newsletter. If you received this newsletter from Sew What Shoppe, congratulations you are already entered into our system. If someone is not registered to receive our Newsletter, they may do so by stopping in the Shoppe or by going to www.sewwhatshoppe.com and click on Newsletter, provide their name and email address and click submit. We absolutely must have your email address on file for billing purposes via Paypal.


3.

If you want to receive a text message reminder 30 minutes before the sale starts.... please make sure that we have your cell phone number on file by stopping in the Shoppe, calling us at 1(217)222-7458 or emailing us directly at
info@sewwhatshoppe


4.

THERE WILL BE PRIZES.... please be willing to share the LIVE video with other sewist, friends, groups and quilt guilds because the more shares and the more people we have on while LIVE, the more prizes!!!!! We will have VENDOR sponsored prizes also.




5.

Items will be sold / claimed by typing in either of the following terms...
1) SOLD or MINE
2) The item Title / description
3) Color if applicable
4) Pick up or ship -
to keep cost at a minimum,
locals will be expected to pick up their items.
There will be free shipping when a certain dollar amount is reached

A few examples of how it will work:


EXAMPLE 1


Say we have a Purple Sewing machine and a Blue Sewing machine.... and you want to buy the Purple Sewing machine and you live local- you will type in the following
Sold Purple machine pick up



EXAMPLE 2
Say we have a Purple Sewing machine and a Blue Sewing machine.... and you want to buy the Purple Sewing machine and you live out of our local area- you will type in the following
Sold Purple machine ship
* machines will most likely never be on this type of event - and was used for example purposes only.


(to help assist while we are LIVE- we will have flash cards for each item to help you)


6. When you purchase an item while on Facebook LIVE, you commit to following through with the purchase.
7. You will receive an invoice via Paypal.


8.

Quantities of the items will vary and thus be sold on first come, first serve basis, So make sure you comment quickly. We will do our best to fulfill the orders.


9.

This will be our first time doing this event and there will be hiccups along the way so please bare with us while we work this all out!


10.

We have no idea what to expect, so fair warning..... it could get a little crazy in here. (I would insert an emoji face that expressed concern or scared if I could)



More Details to come later.

_____________________________________


We are looking for sample makers for displays in our store. Please contact myself (Shawn) if you are interested or stop by the shop so that we may discuss the possibilities.
_________________________________



WE ARE NOW HIRING-
Are you or someone you know looking for a
fun, exciting and fast paced job where you can spend
your days petting fabric and helping fellow sewist
or teaching a class?????
Well then.... We want you or them!
Please share with your family and friends....
Apply in Person at
Sew What Shoppe
420 N 24th
Quincy IL

_________________________________

Fantastic Opportunities await you.....
we have a few previously owned / like new machines up for adoption.


Designer Diamond Royale
Barely used....




Designer Ruby Royale
on Consignment


Contact Shawn if you are interested.



Click the link at the bottom this Newsletter for the Printable Version of our Calendar.





A FEW OF OUR
NEW ARRIVALS

______________________________________

_______________________________________

______________________________________




______________________________________
KITS AVAILABLE





_________________________________


"Sew What" is Happening in the
Shoppe in April .......

SEWCIALIZING - SHOW AND TELL!!!! don't know about you, but I LOVE Show and Tell. It is my favorite part of quilt meetings. We will host it one time each month and we will have Donuts or
Bagels, Orange Juice and Coffee available. Please bring something for show and tell and, if you do, you will receive 20% off one regular priced item purchased that day. 20% off sale can not be combined with any other sales. Please feel free to bring a friend along, even if they do not sew! We want this to be a fun and joyful time so please bring any jokes or stories along also. You are welcome to come without a show and tell item, but won't be eligible for the 20% discount.
Saturday April 6th, 2018
____________________________

Easter Wall Hanging
In the Hoop
Shawn Hodges
April 3rd
( Kits available)



______________________________
Singer Featherweight Group
at
Sew What Shoppe
April 9th, 2019


NEW START TIME-




LETS MAKE A DAY OF IT!




10:00am - 4:00pm


Admission is FREE and for anyone who owns or is interested in owning a
Singer Featherweight.
Come and network with those who love their machines and work on projects.



____________________________


Our Monthly Kimberbell Club
Dealer Exclusive
(ALL brands of embroidery machines)
Shawn Hodges
Wednesday April 10th





____________________________


Kimberbell




Make Yourself at Home




Collection is in stock!!!


Fabric Kits


(
which includes the Quilt embellishment Kit)
Embroidery Cd's and Sewing Patterns available


April 11th


Shawn Hodges




_________________________





Wire Framed Totes


Patti
April 18th
Want a fantastic tote to carry all
those supplies
or
stuff around with????
Give this sewing project a try!
Three sizes available on the pattern.





____________________________


Notion Organizer
Patti
April 24th
In the Hoop


____________________________

Kimberbell
Bench Buddies -
Machine Embroidery
Shawn Hodges
April 25th
Kits will be available


***** The designs have not been released as of yet: therefor; this class may be postponed until the designs are released. *****
____________________________
Late Night Sewing
Friday April 26th
Reminder, We lock the shop up at 5:00pm and go out to eat as a group (a different restaurant each month) and we will return to the shop at 6:30pm to start late night sewing. This is a tradition from when Sue Fox owned the store and I really look forward to this time outside of the store with you ladies and hope to see you there. You can call ahead and so that you can join us there for dinner or you can join us at
6:30pm.
__________________________

We are participating in the 2019 Row by Row
Stay tuned for our Block!

__________________________


Need those blocks or strips cut precise or super FAST?
Or are you tired of hand cranking your Accuquilt cutter?
No Problem we have got you covered!!!!!
Rent our GO BIG ELECTRONIC cutter for the day.
Just place your fabric on the mat and let the machine do ALL the work for you!
________________________
Have you visited our Website or liked us on Facebook yet? They are the BEST way to stay up-to-date on our specials and new arrivals. Our Website has a few new sections added to our Home page and it is extremely easy to navigate. There are tabs for Featured Products, On Sale, Top Sellers and New Products. If you live in the Tri-State area, you can shop online and save on shipping by selecting pick-up in store and you can sign up for classes by selecting the Calendar tab.
2017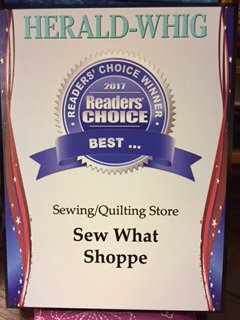 2018
_______________
Reminder, We are now open until 6:00 pm on Thursdays.

Our Row by Row Fabric Plate!
Sew What Shoppe is an Authorized Janome and a Authorized Husqvarna Viking Dealership. If you are interested in a sewing or embroidery machine, we will be more than happy to assist you in making a small project at no cost to you. Stop by our Shoppe when you have free time or call us at (217)222-7458 and we will schedule an appointment for you to come in and test drive our machines and play! It can be extremely busy in here at times so with that said, Appointments have not nor will they ever be necessary, they only allow us to focus on you and your experience.
We look forward to serving all of our current and new customers with a unique experience by offering both Janome and Husqvarna Viking, Fabric, Classes, Machine Service and Longarm Quilting Services.
Have a Blessed Day from all of us here at Sew What Shoppe and see you soon!
Shawn, Brian, Gloria, Amy, Ann, Patti, Pam and Kermit
CLICK THE LINK BELOW FOR THE
PRINTABLE VERSION
OF OUR
April 2019 CALENDAR
https://media.rainpos.com/6237/newnewsapr_2019.pdf