Well Hello to all and Hello Snowy Blizzard of November 2018! I hope that you had a fantastic Thanksgiving with family and friends and that you might have also had a chance to sneak in a little rest and Relaxation. I know that I certainly did.
I feel like we can finally focus on the Christmas Season and w

e have been busy

decorating for Christmas and have our Christmas music playing in the background....and it is a lovely warm and fuzzy feeling!



Please take note that we will be closed December 24th and December 25th for Christmas Eve and Christmas, so please let your loved ones know so that they can get their shopping / gift cards picked up in advance.









I have decided to extend some of the following Sales
through December 3rd.

Clearance Fabric





Select Panels 50% OFF






Due to Several Machine Sales / Upgrades- we have a nice selection of
Previously Loved
Husqvarna Viking Embroidery Machines
and a Brother Sewing Machine
up for adoption. This is a rare opportunity, so don't let these great bargain's pass you by!
Please visit the Shoppe for Details





_________________________________






Click the link at the bottom this Newsletter for the Printable Version of our Calendar.





A FEW OF OUR
NEW ARRIVALS



Northcott Stonehenge







BAH BAH BABY
















Ombre Bolts











A Few of our New Embroidery Designs / Samples







Gift Card Holders








BRAND NEW RELEASE / ARRIVAL


KIMBERBELL


Easter Bunny
Project in the works,
cant wait to see it finished.


Jan 2019 Class

Feb 2019 Class

March 2019 Class

April 2019 Class

March 2019 Class

Sew much fun!
Stop by and check out all of our new fabric arrivals and patterns!



KITS AVAILABLE
for
BAH BAH BABY
PANEL- Can be used to make Pillows or made into a quilt







"Sew What" is Happening in the
Shoppe in December .......


Join us for 3 Saturday's in December for
Demo December!
December 1st, December 8th
and
December 15th.
10:00 am - 10:30ish


THIS EVENT IS FREE, all that is required is that you show up!


You will receive a punch card, a punch and part of a kit to make a mug rug (pictured above) on December 1st. Each time you attend the Demo December you will receive another punch on your card and another portion of the kit. By the end of the 3 Demo's you will have receive all THREE kits to complete the mug rug and the KIMBERBELL Machine Embroidery Design or Sewing Pattern for FREE!


You MUST attend all THREE Demo Saturdays to receive the kits and KIMBERBELL Machine Embroidery Design or Sewing Pattern for FREE



SEWCIALIZING - SHOW AND TELL!!!! don't know about you, but I LOVE Show and Tell. It is my favorite part of quilt meetings. We will host it one time each month and we will have Donuts or
Bagels, Orange Juice and Coffee available. Please bring something for show and tell and, if you do, you will receive 20% off one regular priced item purchased that day. 20% off sale can not be combined with any other sales. Please feel free to bring a friend along, even if they do not sew! We want this to be a fun and joyful time so please bring any jokes or stories along also. You are welcome to come without a show and tell item, but won't be eligible for the 20% discount.
Saturday December 1, 2018



____________________________


Most Wonderful Time of the Year


Patti Russell
Dec 4th




____________________________

Our Monthly Kimberbell Club




Dealer Exclusive


(

ALL brands of embroidery machines

)


Shawn Hodges


Wednesday December 6th



____________________________
Noel
Patti Russell
December 6th




____________________________

Winter Words
Patti Russell
December 11th



____________________________

Singer Featherweight Group
at
Sew What Shoppe
December 12th, 2018 12:00pm - 4:00pm
Admission is FREE and for anyone who owns or is interested in owning a
Singer Featherweight.
Come and network with those who love their machines and work on projects.

____________________________

Monthly Pot Holders
Ann Pflibsen
December 17th


____________________________

Monday December 24th - 25th

We will be Closed


MERRY CHRISTMAS
____________________________



Late Night Sewing
Friday Dec 28th
Reminder, We lock the shop up at 5:00pm and go out to eat as a group (a different restaurant each month) and we will return to the shop at 6:30pm to start late night sewing. This is a tradition from when Sue Fox owned the store and I really look forward to this time outside of the store with you ladies and hope to see you there. You can call ahead and so that you can join us there for dinner or you can join us at
6:30pm.
__________________________
Got Flannel?

__________________________
Need those blocks or strips cut precise or super FAST?
Or are you tired of hand cranking your Accuquilt cutter?
No Problem we have got you covered!!!!!
Rent our GO BIG ELECTRONIC cutter for the day.
Just place your fabric on the mat and let the machine do ALL the work for you!
________________________
Have you visited our Website or liked us on Facebook yet? They are the BEST way to stay up-to-date on our specials and new arrivals. Our Website has a few new sections added to our Home page and it is extremely easy to navigate. There are tabs for Featured Products, On Sale, Top Sellers and New Products. If you live in the Tri-State area, you can shop online and save on shipping by selecting pick-up in store and you can sign up for classes by selecting the Calendar tab.
2017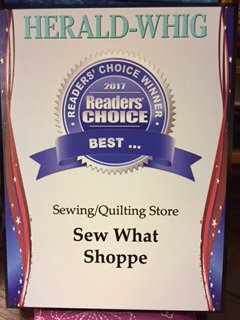 2018
_______________
We are always looking to add more friendly faces to our family and encourage you to stop by and apply at any time.

Reminder, For your convenience we are now open until 8:00 pm on Thursdays.

Our Row by Row Fabric Plate!
Sew What Shoppe is an Authorized Janome and a Authorized Husqvarna Viking Dealership. If you are interested in a sewing or embroidery machine, we will be more than happy to assist you in making a small project at no cost to you. Stop by our Shoppe when you have free time or call us at (217)222-7458 and we will schedule an appointment for you to come in and test drive our machines and play! It can be extremely busy in here at times so with that said, Appointments have not nor will they ever be necessary, they only allow us to focus on you and your experience.
We look forward to serving all of our current and new customers with a unique experience by offering both Janome and Husqvarna Viking, Fabric, Classes, Machine Service and Longarm Quilting Services.
Have a Blessed Day from all of us here at Sew What Shoppe and see you soon!
Shawn, Brian, Gloria, Shavon, Kim, Amy, Ann, Patti and Kermit
CLICK THE LINK BELOW TO SEE THE
December 2018 CALENDAR
https://media.rainpos.com/6237/dec_newsletter_copy4.pdf