September 2018 Newsletter / Calendar

Hello everyone!
I hope that all is well with everyone and that you are enjoying the beautiful weather! It has been a busy summer for many of you and I'm hoping that with the start of school you will have a little time for some R&R in the near future! Speaking of R&R, did you know that September is National Sewing Month? Well, there you have it; for those of you who really do enjoy sewing, there is yet another reason to get those UFO's / projects out and get them finished!!!!!




It is hard to believe but we will be celebrating our 2 year anniversary on September 13th. Where oh' where, did time go? Again, Thank each of you for your support, we cant do it without you and our staff!


On THURSDAY SEPTEMBER 13th ONLY


We will be celebrating with a Birthday Bash!
We will blast out a separate email shortly before the anniversary date announcing our sales.
____________________________________
**HINT**
We will have prizes, food and drinks so be sure to stop in at some point on that day.


Every TWO hours, We will have a drawing!


To keep it simple and give everyone a better chance to win, Names will be collected in Two hour intervals, and then tossed and a new set of names will start being collected. Drawing's will take place at the times listed below.
at 12:00pm, 2:00pm, 4:00pWe m, 6:00pm and 8:00pm.
____________________________________

We hosted our Business Before Hours with the Quincy Area Chamber of Commerce in June and had a great time meeting several local business owners. From that event and meeting new people while I'm out and about, I have had request for classes for new the sewist so we are hosting a FREE Introduction / demo to the Basic Sewing Machine on


Saturday August 25th

.
If you know anyone who might be interested in learning about a sewing machine, please direct them to our shop for additional information. They do not need to own or bring a machine on Saturday AUGUST 25th. If they already own an machine but do not know the basic's, This will be educational and beneficial for many. Then on September 22nd, we will start a Beginning Quilting Class / Program that will extend approximately 8 weeks. The goal over the 8 weeks will be to have a small quilt completed. Each Participant WILL be provided a Student Handbook to keep; however, each student will need to provide their own working machine and be somewhat familiar with it for the weekly Quilting class. Each student will make a baby or lap size quilt (pictured below) and will need to provide their own fabric's, and of course, each of our staff members have great eye for mixing fabric's and can assist, if needed.


We will be offering Special pricing on machines this Saturday August 25th for the upcoming Quilting class.





Click the link at the bottom this Newsletter for the Printable Version of our Calendar.





A FEW OF OUR
NEW ARRIVALS
Stop by and check out all of our new arrivals!

Cute pattern below to use with the above fabric's

Daddy and Me Book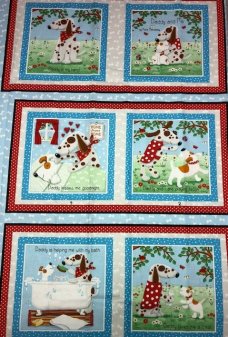 I-Spy Panel
School Zone
New Multi- Color Ombre 108" Wide Back
KITS AVAILABLE
"Sew What" is Happening in the
Shoppe in September .......

SEWCIALIZING - SHOW AND TELL!!!! I don't know about you, but I LOVE Show and Tell. It is my favorite part of quilt meetings. We will host it one time each month and we will have Donuts or
Bagels, Orange Juice and Coffee available. Please bring something for show and tell and, if you do, you will receive 20% off one regular priced item purchased that day. 20% off sale can not be combined with any other sales. Please feel free to bring a friend along, even if they do not sew! We want this to be a fun and joyful time so please bring any jokes or stories along also. You are welcome to come without a show and tell item, but won't be eligible for the 20% discount.


Saturday September 8, 2018 10:00am - 11:00pm


Following Show and Tell


Saturday September 8, 2018


Free - stop in to see or get demo of a few new cool tools.




Gloria Ludwig




Quilt as you go

-

Pet Placemats


September 10th



Singer Featherweight Group
at
Sew What Shoppe
September 11, 2018 12:00pm - 4:00pm
Admission is FREE and for anyone who owns or is interested in owning a
Singer Featherweight.
Come and network with those who love their machines and work on projects.






Our Monthly Kimberbell Club
Dealer Exclusive
(

ALL brands of embroidery machines

)


Shawn Hodges


Wednesday September 12th
or
Saturday September 15th
Fun with Mylar

Monthly Potholders
(sewing project with Ann Pflibsen)


Class fee is $10.00


Home Sweet Home


September 17th
Kimberbell




Broomhila's


Trick-or-Treat
Smell my Feet
Tea Towel


Shawn Hodges


September 20th





Kimberbell Broomhilda's Bakery




Sewing or Machine Embroidery




Shawn Hodges


September 20,2018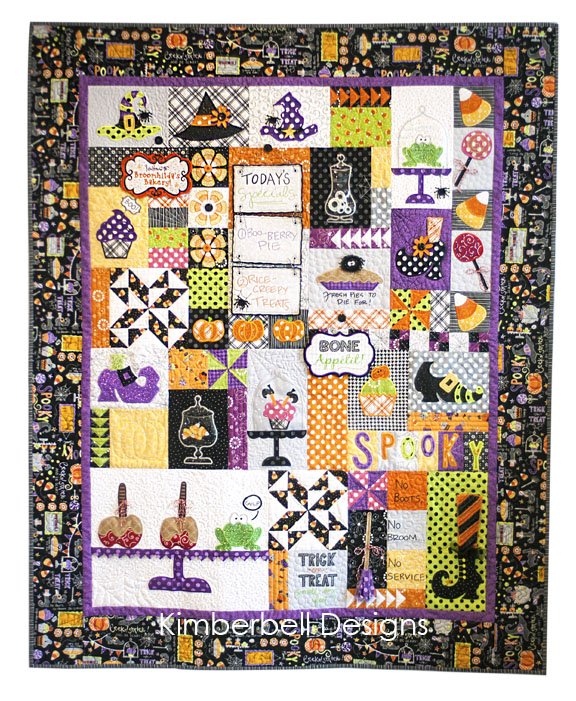 Patti Russell


Quilt as you go -

Table Runner


September 24th

Late Night Sewing
Friday September 28th
Reminder, We lock the shop up at 5:00pm and go out to eat as a group (a different restaurant each month) and we will return to the shop at 6:30pm to start late night sewing. This is a tradition from when Sue Fox owned the store and I really look forward to this time outside of the store with you ladies and hope to see you there. You can call ahead and so that you can join us there for dinner or you can join us at
6:30pm.
____________________________
It
is finally Here....
The Stack N Whack
Reveal Party
Saturday September 29th
10:30am
Bring your Stack N Whack and join us for sweets and drinks!
We can hardly wait to see them all finished.






Looking ahead......


October is Breast Cancer awareness month - remember to get your mammograms scheduled!


______________________

In October, Sue Fox has will be our quest speaker and will be giving a lecture on Understanding Needles and Threads. This will be a informative lecture and no machines needed; and better yet, it is FREE!
Mark your calendars for Saturday October 6th! Arrive at 10:00am for Show and Tell and Sue's presentation will immediately follow Show and Tell.
Please sign-up in advance for this Free lecture. We hope to see you here!
_______________________


October Classes


Potholders



Kimberbell
Toad-ally Under your Spell Pillow


Winter Pillows






November Classes


Pillows or Door Hangers

Hallye Bone, Author and Quilt Appraiser will be returning


November 7th & 8th


to do appraisals.
Please call the shop at 217-222-7458 to get your name on a list; as some of you are aware, our appointments fill up extremely fast.
Need those blocks or strips cut precise or super FAST?
Or are you tired of hand cranking your Accuquilt cutter?
No Problem we have got you covered!!!!!
Rent our GO BIG ELECTRONIC cutter for the day.
Just place your fabric on the mat and let the machine do ALL the work for you!
Have you visited our Website or liked us on Facebook yet? They are the BEST way to stay up-to-date on our specials and new arrivals. Our Website has a few new sections added to our Home page and it is extremely easy to navigate. There are tabs for Featured Products, On Sale, Top Sellers and New Products. If you live in the Tri-State area, you can shop online and save on shipping by selecting pick-up in store and you can sign up for classes by selecting the Calendar tab.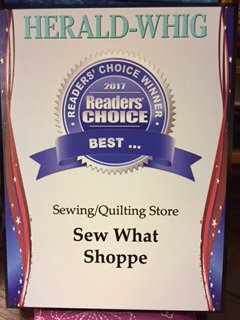 We are always looking to add more friendly faces to our family and encourage you to stop by and apply at any time.

Reminder, For your convenience we are now open until 8:00 pm on Thursdays.

Our Row by Row Fabric Plate!
Sew What Shoppe is an Authorized Janome and a Authorized Husqvarna Viking Dealership. If you are interested in a sewing or embroidery machine, we will be more than happy to assist you in making a small project at no cost to you. Stop by our Shoppe when you have free time or call us at (217)222-7458 and we will schedule an appointment for you to come in and test drive our machines and play! It can be extremely busy in here at times so with that said, Appointments have not nor will they ever be necessary, they only allow us to focus on you and your experience.
We look forward to serving all of our current and new customers with a unique experience by offering both Janome and Husqvarna Viking, Fabric, Classes, Machine Service and Longarm Quilting Services.
Have a Blessed Day from all of us here at Sew What Shoppe and see you soon!
Shawn, Brian, Gloria, Shavon, Kim, Amy, Ann, Patti and Kermit
CLICK THE LINK BELOW TO SEE THE
September 2018 CALENDAR
https://media.rainpos.com/6237/shawn_new_sept1.pdf