June 2018 Newsletter / Calendar

Good Morning everyone! I hope everyone is enjoying the June weather, as it is finally starting feel like Spring is here! There for a little while, I was starting to think that we somehow skipped Spring altogether and went straight to Summer. I apologize for getting the Newsletter for June out so late. This Newsletter will be short and sweet! Please feel free to call if you have any questions or concerns.


For the inconvenience,


How about a SALE??????
This Tuesday (June 8th)
through
Saturday (June 12th)


20% off your total purchase


****excluding sale items, classes or services****





New Arriva

l


and
KITS AVAILABLE

Stop by and check out our other new arrivals!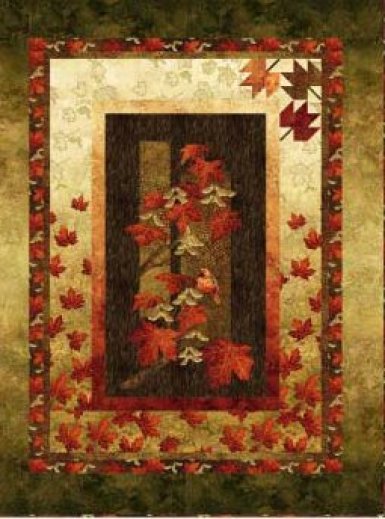 Our Two Day's of appraisals with Hallye Bone was extremely busy and full of fun! During Hallye's visit we had the oppertunity to see a wide array of beautiful quilts. We honestly have several talented sewist in our area and they inspire myself and others to create beautiful pieces of art and more importantly, to just hang in there and finish those projects that we tend to set aside to finish "SOMEDAY"! Hallye will be returning sometime this Fall / Winter so please call the shop at 217-222-7458 to get your name on a list; as some of you are aware, our appointments fill up extremely fast.



"Sew What" is Happening in the
Shoppe in June .......

SEWCIALIZING - SHOW AND TELL!!!! I don't know about you, but I LOVE Show and Tell. It is my favorite part of quilt meetings. We will host it one time each month and we will have Donuts or
Bagels, Orange Juice and Coffee available. Please bring something for show and tell and, if you do, you will receive 20% off one regular priced item purchased that day. 20% off sale can not be combined with any other sales. Please feel free to bring a friend along, even if they do not sew! We want this to be a fun and joyful time so please bring any jokes or stories along also. You are welcome to come without a show and tell item, but won't be eligible for the 20% discount.


Saturday, June 2, 2018 10:00am - 12:00pm






NEW.... Singer Featherweight Club / Group



Barb Gregory will be the
administrator and contact
for the Group.
The Group will meet
Once a Month
at
Sew What Shoppe
June 12th 12:00pm - 4:00pm
Admission is FREE and for anyone who owns or is interested in owning a
Singer Featherweight.
Come and network with those who love their machines and work on projects.






Monthly Potholders
(sewing project with Ann Pflibsen)

Class fee is $10.00 and the purchase of the pattern book with all patterns is required


Stars and Stripes
June 18th





Our Monthly Kimberbell Club
Dealer Exclusive
(

ALL brands of embroidery machines

)
Saturday June 9th or Wednesday June 13th
Mug Rug




Kimberbell Hello Sunshine
Sewing or Machine Embroidery
June 21st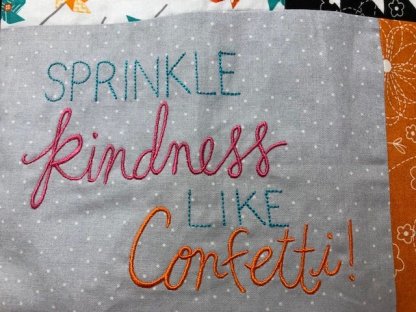 Marlene Beeler
Rose of Sharon
June 28th, 2018









Accuquilt GO

pre-cut

kits for a Red, White and Blue Star Table Runner Class June 16th
Sewing
and
it would make a great beginner class

(

sneak peek below

)



Have you visited our Website or liked us on Facebook yet? They are the BEST way to stay up-to-date on our specials and new arrivals. Our Website has a few new sections added to our Home page and it is extremely easy to navigate. There are tabs for Featured Products, On Sale, Top Sellers and New Products. If you live in the Tri-State area, you can shop online and save on shipping by selecting pick-up in store and you can sign up for classes by selecting the Calendar tab.
Click the link at the bottom this Newsletter for the Printable Version of our Calendar.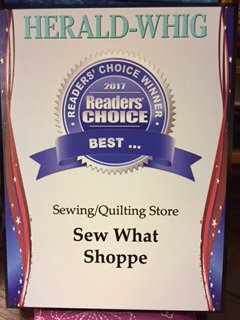 We are always looking to add more friendly faces to our family and encourage you to stop by and apply at any time.

Reminder, For your convenience we are now open until 8:00 pm on Thursdays.

Our Row by Row Fabric Plates for 2017!
Sew What Shoppe is an Authorized Janome and a Authorized Husqvarna Viking Dealership. If you are interested in a sewing or embroidery machine, we will be more than happy to assist you in making a small project at no cost to you. Stop by our Shoppe when you have free time or call us at (217)222-7458 and we will schedule an appointment for you to come in and test drive our machines and play! It can be extremely busy in here at times so with that said, Appointments have not nor will they ever be necessary, they only allow us to focus on you and your experience.
We look forward to serving all of our current and new customers with a unique experience by offering both Janome and Husqvarna Viking, Fabric, Classes, Machine Service and Longarm Quilting Services.
Have a Blessed Day from all of us here at Sew What Shoppe and see you soon!
Shawn, Brian, Gloria, Shavon, Kim, Amy, Ann, Patti and Kermit
CLICK THE LINK BELOW TO SEE THE
May 2018 CALENDAR
https://media.rainpos.com/6237/june_2018docx.pdf