March 2018 Newsletter / Calendar

Hello everyone, The weather over the last few days has been glorious and I'm sure that you
are all enjoying it just as much as we are, if not more! It truly is hard to believe that we are fast
approaching March, Where in the world did the time and the days go? I remember when I was a young girl people would say "enjoy your time while your young because it flies by the older you get"

and I remember thinking..... How can that be? Time is Time and it can not go any faster!


Well, it most certainly seems as though they were correct!

As many of you know, Sew What Shoppe is a Certified Kimberbell Event Shop and we are hosting a Kimberbell Kitchen 2-Day Event
March 16th and 17th, 2018! We will provide a light Breakfast and Lunch for both days. Cost for the 2 Day event is $199.00 and you provide your own machine.
Seating is limited and will fill up fast! Great Prizes and a fun time to be had by all! We can NOT wait!

Do you have one of our Pink Quilt bags????? Drop it off anytime and we will embroidery your name on it, at no cost to you!!!!

.
"Sew What" is Happening in the
Shoppe in March .......


Anita Goodesigns - BLOW OUT EVENT!


75% off


*Applies to in-stock only designs
Regular Price $34.95 - 26.21 =

$

8.74


Regular Price $69.95 - 52.46 =

$17.49


Regular Price $99.95 - 74.96 =

$24.99


Regular Price $179.95 - 134.96 =

$44.99





SEWCIALIZING - SHOW AND TELL!!!! I don't know about you, but I LOVE Show and Tell. It is my favorite part of quilt meetings. We will host it one time each month and we will have Donuts or
Bagels, Orange Juice and Coffee available. Please bring something for show and tell and, if you do, you will receive 20% off one regular priced item purchased that day. 20% off sale can not be combined with any other sales. Please feel free to bring a friend along, even if they do not sew! We want this to be a fun and joyful time so please bring any jokes or stories along also. You are welcome to come without a show and tell item, but won't be eligible for the 20% discount.


Saturday, March 3, 2018 10:00am - 12:00pm




Machine Embroidery Table Topper
March 7th





Monthly Potholders
(sewing project with Ann Pflibsen)

Class fee is $10.00 and the purchase of the pattern book with all patterns is required



The Umbrella will be in March
and the
Flower Pot Holder will be in April





(sewing)


Saturday March 24th
Kits Available




Our Monthly Kimberbell Club
Dealer Exclusive


(ALL brands of embroidery machines)


Saturday March 10th or Wednesday March 21st




Kimberbell Hello Sunshine
Sewing or Machine Embroidery
March 22nd

*Fabric Kits Available while supplies last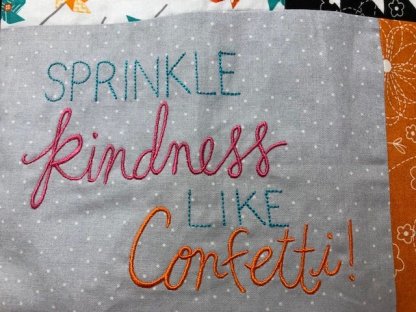 Marlene Beeler is starting a new quilt, it is

Rose of Sharon by Anita Goodesign.

It will be machine embroidery and as always, it will be a beautiful quilt. Below is a sample picture of a few of her Bright and beautiful Batik blocks.
March 29, 2018



* IF YOU PLAN ON ATTENDING THIS CLASS AND




DO NOT ALREADY HAVE THE EMBROIDERY DESIGN




PLEASE CALL US AT 217-222-7458 BY MARCH 15th, SO THAT WE CAN ORDER IT FOR YOU.







* Also...... If you missed Marlene's Stack N Whack




Quilt class last year, and would like to take the class, she has agreed to a Class on Wednesday, March 28th at 10:00am

Please make a note on your calendars-
It is not on our link in the current calendar below.








A few of our new arrivals ......


New Line of 80 Batik Bolts arrived last week and they are
just Beautiful!
They will look fabulous in the Quilt Marlene is teaching and they will go great with so many of the
other Batiks in your stash!


We have several new Moda Batiks that arrived last week
and Today, 20 New Moda Batik Bolts arrival and they are waiting to be checked in!





Another new arrival was just dropped today and waiting to be checked in..... 19 bolts of Nursery Rhymes and a Panel to make a Nursery Rhyme Book. OH'..... SO CUTE!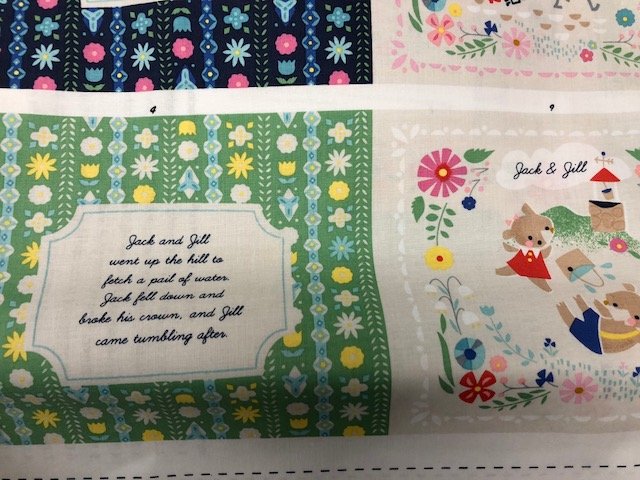 Kits available
Hop to it - Table Runner

Have you visited our Website or liked us on Facebook yet? They are the BEST way to stay up-to-date on our specials and new arrivals. Our Website has a few new sections added to our Home page and it is extremely easy to navigate. There are tabs for Featured Products, On Sale, Top Sellers and New Products. If you live in the Tri-State area, you can shop online and save on shipping by selecting pick-up in store and you can sign up for classes by selecting the Calendar tab.
Click the link at the bottom this Newsletter for the Printable Version of our Calendar.
We are always looking to add more friendly faces to our family and encourage you to stop by and apply at any time.

Reminder, For your convenience we are now open until 8:00 pm on Thursdays.

Our Row by Row Fabric Plates for 2017!
Sew What Shoppe is an Authorized Janome and a Authorized Husqvarna Viking Dealership. If you are interested in a sewing or embroidery machine, we will be more than happy to assist you in making a small project at no cost to you. Stop by our Shoppe when you have free time or call us at (217)222-7458 and we will schedule an appointment for you to come in and test drive our machines and play! It can be extremely busy in here at times so with that said, Appointments have not nor will they ever be necessary, they only allow us to focus on you and your experience.
We look forward to serving all of our current and new customers with a unique experience by offering both Janome and Husqvarna Viking, Fabric, Classes, Machine Service and Longarm Quilting Services.
Have a Blessed Day from all of us here at Sew What Shoppe and see you soon!
Shawn, Brian, Gloria, Shavon, Kim, Tina, Amy, Ann and Kermit
CLICK THE LINK BELOW TO SEE THE
March 2018 CALENDAR
https://media.rainpos.com/6237/march_2018.pdf