October 2017 Newsletter / Calendar
Wow, September was an extremely busy and exciting month for us as we celebrated our ONE year anniversary throughout the entire month with new specials each week. It was a blast to assist and spend time with so many of you. Additionally, We would like to say "THANK YOU" once again, to everyone who took the time out of their busy day / schedule to vote for Sew What Shoppe in the

Herald-Whig's Readers' Choice Best of 2017 Awards

in the category of Best Sewing / Quilting Store. We are thrilled and honored that you chose us! As a Thank you, we will have a

20% off coupon

in the Quincy Herald Whig this Sunday, October1, 2017.
*Coupon must be present and can not be combined with any other special offers or promotions.


Our Award / Plaque has arrived and it is our honor to share it with you.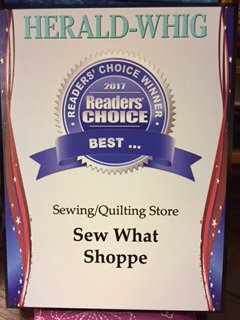 We have flipped and moved the stores around and we invite you in to see the new look. Pictured below is our new (well, antique but new to us) Floriani Thread display and we love it!


A few of our new arrivals ......


Click the link at the bottom this Newsletter for the Calendar.
We have a few new faces around the store and invite you in to get to know them if you do not know them already! We have the generous Ann Pflibsen who is helping us out on a temporary basis (unless we can convince her otherwise) and we have Jan who will be starting very soon. We are still looking to add more friendly faces to our family and encourage you to stop by and apply at any time.
"Sew What" is Happening in the
Shoppe in October .......

SEWCIALIZING - SHOW AND TELL!!!! I don't know about you, but I LOVE Show and Tell. It is my favorite part of quilt meetings. We will host it one time each month and we will have Donuts or
Bagels, Orange Juice and Coffee available. Please bring something for show and tell and, if you do, you will receive 20% off one regular priced item purchased that day. 20% off sale can not be combined with any other sales. Please feel free to bring a friend along, even if they do not sew! We want this to be a fun and joyful time so please bring any jokes or stories along also. You are welcome to come without a show and tell item, but won't be eligible for the 20% discount.


Saturday, October 7, 2017 10:00am - 12:00pm



Spooky Table Topper
(sewing not machine embroidery)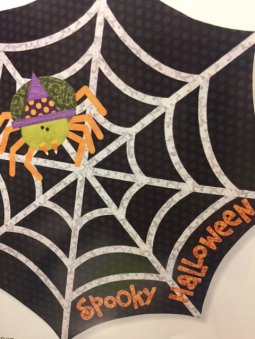 Trick or Treat Table Runner
(sewing not machine embroidery)



Embellished Christmas Cards with
Margaret Brunier - Looking for something different and fun to do????? We are too and you are sure to have fun no matter your skill level.... class is $12.00 and you get to keep your cards! Class is limited to 9, so sign up early.



We are having a Technique Party..... Saturday, October 14,2017. We will be doing a demonstration of blocks with those 60 degree rulers that we all have in our tool boxes....and have no idea how to use them or what to do with them. We will have food and party games.



Jingle All the Way

LOOKING AHEAD TO NOVEMBER....
We are looking at doing A Merry & Bright (Christmas) Kimberbell Event (pictured below) on
Friday Nov 3rd and Saturday Nov 4th.
The enrollment fee is $199.00


Please call the Shoppe at 1(217)222-7458 if interested by October 8TH




Marlene Beeler will be teaching a beautiful Stack n Wack in

November

. Learn how to take ONE Fabric and cut it and arrange it to look like completely different blocks. The photo below is her quilt, she used the border fabric and made all of the blocks with the same fabric.
SEW FUN!

Reminder, For your convenience we are now open until 8:00 pm on Thursdays.

Our Row by Row Fabric Plates for 2017!
Sew What Shoppe is an Authorized Janome and a Authorized Husqvarna Viking Dealership. If you are interested in a sewing or embroidery machine, we will be more than happy to assist you in making a small project at no cost to you. Stop by our Shoppe when you have free time or call us at (217)222-7458 and we will schedule an appointment for you to come in and test drive our machines and play! It can be extremely busy in here at times so with that said, Appointments have not nor will they ever be necessary, they only allow us to focus on you and your experience.
We look forward to serving all of our current and new customers with a unique experience by offering both Janome and Husqvarna Viking, Fabric, Classes, Machine Service and Longarm Quilting Services.
Have a Blessed Day from all of us here at Sew What Shoppe and see you soon!
Shawn, Brian, Gloria, Shavon, Kim, Tina, Amy, Ann, Jan and Kermit
CLICK THE LINK BELOW TO SEE THE
October 2017 CALENDAR
https://media.rainpos.com/6237/october_2017_calendar_final_92917_430pm.pdf